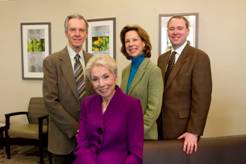 A Silver Lining Foundation Partners with The Women's Center at Rockford Health System – Adding to its already sterling list of hospital partnerships, A Silver Lining Foundation (ASLF) recently announced its new partnership with The Women's Center at Rockford Health System. After partnering with six hospitals in the last six years, teaming up with The Women's Center brings the number to seven and also awareness and help to the Rockford area.
The Chicago-based foundation brings its Buy a Mom a Mammogram program to the hospital, a program that funds cost free mammograms and diagnostic follow up testing to those who are not financially able to get screened for a mammogram on their own. ASLF will also work with the Rockford Memorial Development Foundation to fund the free mammogram program, and help expand and extend the program that has been a part of the Rockford Health System since 2006.
ASLF, launched in 2002 by Dr. Sandy Goldberg, has provided over 450,000 people throughout the Chicagoland area with cancer resource information, treatment options and support services. Their mission is to provide every person, no matter their socioeconomic status, with quality access to breast cancer information, screenings and diagnosis.